Office of Government Relations
January 23, 2015
Huskies on the Hill 2015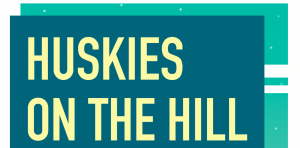 The 2015 Washington State Legislative Session has just begun, and the result of the McCleary v. Washington State Supreme Court ruling presents a great possibility of funding cuts for the University of Washington. State support for higher education funding has decreased by over 50% in the last 10 years, which leads to increased tuition that burdens students.
Now more than ever, it is critical for students to address their legislators and show that tuition increases are not acceptable. The ASUW Office of Government Relations has organized their annual Huskies on the Hill Lobby Day for Friday, February 6th. Students will travel to Olympia and meet with legislators to advocate for higher education funding. Past successes of Huskies on the Hill led to the 2013-2015 Resident Tuition Freeze, passing of the DREAM Act, and creation of a shared governance system at the UW through college councils.
All are invited to attend Huskies on the Hill! Students are encouraged to share their stories with legislators, discussing how tuition increases would impact them. Food and transportation will be provided, and students can RSVP at tinyurl.com/huskiesonthehill2015.
Email Barrie Sugarman at asuwogr1@uw.edu with any questions.