Office of Government Relations
Engage UW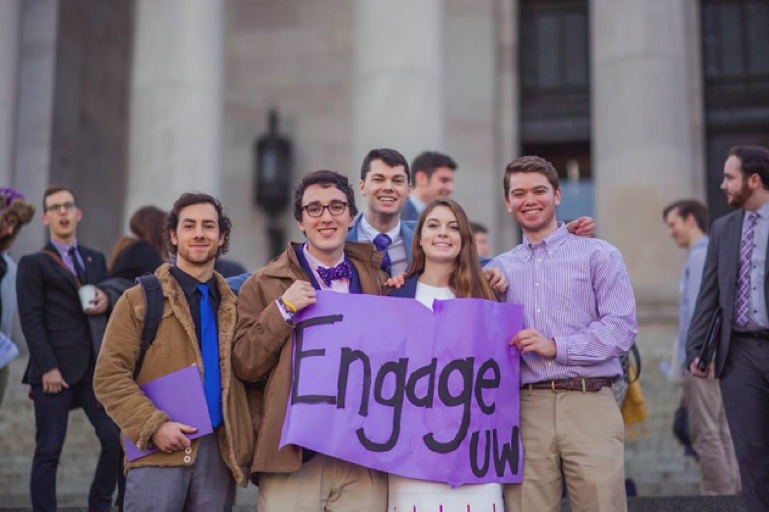 Mission
Engage UW is the on-campus grassroots arm of the ASUW Office of Government Relations (OGR). Volunteers work with the OGR to promote civic engagement, participate in political advocacy, and foster an environment of increased political participation on campus.
The students are the most important stakeholders at this university. We work to raise awareness of what students can do to influence the political process. We are concerned primarily with issues specific to University of Washington students, including reducing the cost of higher-education, fully-funding the State Need Grant, and reducing the price of textbooks.
We work to make political change accessible by bringing the policy process to campus. It is our goal to ensure that all students are registered to vote and know how to contact their legislators. In addition, we provide the resources for students to learn more about the politics and institutions of their community.
Participation in politics is a defining aspect of civic engagement. By promoting political activism on campus, we strive to foster a generation of engaged citizens.
Involvement
Meetings for 2018 will be announced at the beginning of winter quarter. Please fill out the below form to sign up, and feel free to walk in to any meeting! All are welcome to join, or just check out what Engage UW is up to. Any changes will be posted on the OGR Facebook page.
Sign-Up
If you are interested in joining Engage UW, please fill out this form to be added to our outreach list. We look forward to working with you!
Learn More
If you are interested, have any questions, ideas, or ways to help out, please contact Maya Sullivan at asuwogrc@uw.edu