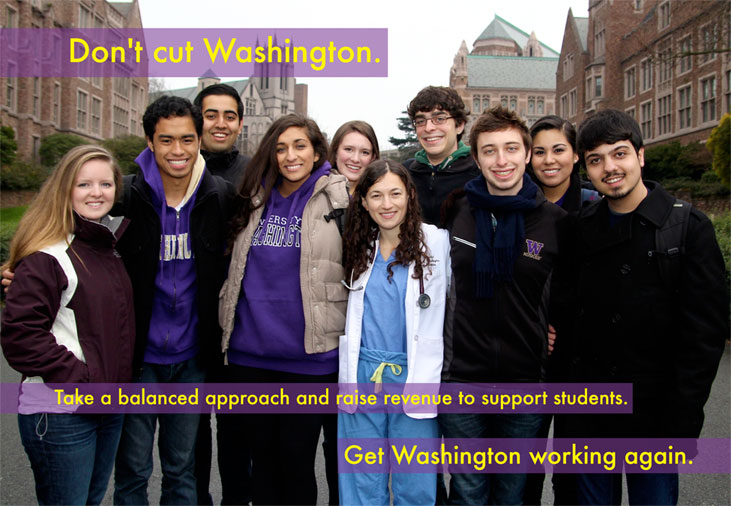 State financial support for the University of Washington has declined by 55% over the past five years, causing a 37.4% increase in tuition in the past two years alone. Students are facing higher tuition, cuts to financial aid, the elimination of programs and larger class sizes with fewer TAs. It is time for legislators to take a balanced approach and find new sources of revenue for higher education. BARK against budget cuts!
Take a stand and fill out a postcard that will be delivered to your Legislator! If you are an undergraduate student send an email to Angie Weiss at asuwogr1@uw.edu. If you are a graduate student please send an email to Kiana Scott at gpsspol@uw.edu.
The first to attend college in her immediate family, Senior Alicia Halberg will graduate with a degree in Journalism and Political Science with a minor in International Studies: Africa and the African Dispora. She aspires to be an international reporter and live up to the Society of Professional Journalists' Ethics Code which states, "Tell the story of the diversity and magnitude of the human experience boldly, even when it is unpopular to do so." Alicia studied abroad in Sierra Leone with the UW Honors Program and completed an independent ethnography of communication patterns in place of western notions of mass media. For a month she lived in a rural community of 400 people. She was a resident advisor for two years because she was wanted to build an inclusive living community for UW students. Alicia loves the UW because of the diversity of majors and the communality of students striving to learn and make a better world. Her favorite class has been Newslab; she left the class with a portfolio of clips and got an inside view of how local news outlets operate. In 2011 Alicia was awarded the Husky Green Award for starting and maintaining a compost co-op that collected nearly one ton of compost in two quarters.
Alicia Watanabe is a senior studying medical anthropology and pre-medicine; striving to be a a doctor specializing in pediatric oncology. Alicia embodies the intricate balance of knowledge, flexibility, and passion for serving children. She is the Multicultural Chair at the Latino Student Union; planning events for the group that provide educational empowerment and bring awareness to issues within the Latino community. Alicia has studied Spanish for three years in an effort to minimize language barriers and misunderstandings between herself and future patients. She has taken courses in American, Asian, and Latin Ethnic Studies to gain a holistic view of culture. She chose to major in Medical Anthropology and minor in Diversity to defend the underprivileged and underrepresented, prevent racial discrimination, and resolve issues rooted in cultural misunderstanding. Instead of only taking science classes, Alicia has taken a multitude of courses that have trained her to be compassionate doctor for her future patients. She grew up in White Center, Washington and is a Husky Promise student, meaning through the Pell Grant, State Need Grant, and University grants she is able to attend the University of Washington of free.
Fourth year medical student April Schachtel returned to her native Seattle and her beloved Huskies after undergrad at Princeton University to pursue a career in internal medicine. When she's not studying, April is involved in the UW School of Medicine Medical Student Association, teaches Latino immigrants about health topics at Casa Latina, and volunteers at the dermatology clinic at the Downtown Emergency Services Center (DESC). To pay for medical school, April is the recipient of the Odland Scholarship, and also receives both subsidized and unsubsidized Stafford loans. She chose UW both for the outstanding caliber of professors, and because it was the most affordable option. April plans to stay in Washington State after receiving her degree, and would like to work in an academic center to teach medical students and residents.
Ashoat Tevosyan is a junior studying Computer Science and Economics and minoring in Philosophy. When Ashoat was fourteen, he started a free webhosting service that now serves tens of thousands of websites and is a self-sustaining non-profit. Last summer he served as an intern for Facebook. Ashoat is passionate about computers and is inspired that all a person needs to create software is a computer and a brain. The existence of the Internet has enabled his independence to purse his passion of serving others using technology. He serves as Chair of the Student Technology Fee Committee and loves leading the Committee because he is able to make a difference in students' lives by enabling their learning through technology.
Pre-Engineering sophomore Kartik Rishi serves as the Executive Director of TedxUofW an organization committed to empowering students by connecting them with exemplary local leaders in a day-long dialogue highlighting next generation ideas and thinking. The organization is composed of students and serves student leaders who are driven to make a difference at the University of Washington and in the future. He serves as the Director of Marketing and Outreach for the Residence Hall Student Association and appreciates the opportunity to develop multiple skills to grow as a leader and creative thinker. Kartik was awarded the Everett Rotary's Anthony G. Bozich 4-year scholarship and has multiple student loans used to pay his tuition.
Senior Matt Sackman will graduate with degrees in Communication and Political Science and is interested in a career in fundraising for non-profits. His dream job is to be a lead fundraiser at a zoo. He has a heart for improving the quality of life and education of individuals. Matt has shown this in his involvement in the Student Philanthropy Education Program as Vice Chair, member of the Senior Class Gift Council, and as the Advancement Chair for the ASUW. He has volunteered at a variety of organizations and believes that every student should spend at least an hour a week helping others. His favorite class was Euro 490: European Union Simulation. Through the class he toured the history of Europe's integration while developing critical negotiating and budgetary skills. Matt has studied abroad three times in Italy, the United Kingdom, and in Switzerland. He is a recipient of the Pell Grant, has several loans, and earned several scholarships awarded for his high achievement.
Senior Mayuri Reddy is a Business Marketing and Entrepreneurship Major and serves as the Director of ASUW's Arts and Entertainment entity. She has also served as the Panhellenic Vice President of Service and Scholarship in the Greek Community. Mayuri organized a concert that raised $4,500 for women in the Philippines when she was a junior at Shorewood high school. During her junior year she studied in Cape Town, South Africa and enjoyed the experience of living and working abroad. The experience has inspired her to live and work abroad once she graduates. Mayuri has taken out multiple loans in order to fund her education, these have increased accordingly with the UW's tuition increases. Student indebtedness increased to $1 billion this year.
Miles Fernandez grew up in Brier and is a junior studying Political Science. He commutes from Bothell every day using transit, a much quicker and inexpensive way of commuting than driving. He has served as an organizer for a few campaigns and values giving back to his community. Miles is an active participant in the Student Senate and the Filipino American Student Association and welcomes the opportunity to learn more about his family's cultural heritage. He loves the inclusiveness of the UW community and meeting new people every day. His favorite class was Comparative Politics because the professor was engaging and insightful.
Riley Lee-Card is a junior studying Civil Engineering and aspires to become a civil engineer and work with architects to make their conceptual designs a reality. Architectural History has been his favorite class because the professor was engaging and Riley enjoyed studying different periods of architectural history. Riley serves as the co-chair of the Services and Activity Fee Committee and strives to make sure every student dollar is being spent efficiently and serves student interests. He is also a student trustee for the University of Washington's non-profit bookstore. To pay for the cost of his education and housing Riley works two jobs and has multiple student loans.
Photographer: Tim Tan, studying Junior Business and Informatics